---

CHRIST
at the
END of LIFE:


The Coronotion of the Blessed Virgin Mary in Heaven
Tres Riches Heures of Jean, Duke of Berry
15th Cent. MS illum.
Bioethical Issues and Pastoral Care
---
---
---
---
---
A Suicide Party in Ojai - August, 2016
Richness of the Catholic Bioethics Heritage (timeline); Alphonsus Ligouri nav.
Patient Autonomy and Rights in California Law (Summary of CA Probate Code Pt.Self-Determ.Act)
---
---
Magisterial Texts: Evangelium Vitae; Benedict XVI; Catechism; USCCB ERDs; Pontif.Acad.Science on Brain Death
No papal organ donor
Recent Vatican Conference on potential and actual abuses; Case in Calif. (Navarro)
---
3. WITHDRAWING or WITHHOLDING MEDICAL TREATMENT
---
a. Magisterial Texts: Catechism; USCCB ERDs.
Catholic understanding of Horror Vehemens
b. Advance Directives: DPHAC and POLST
When CPR is effective/ineffective. (Leslie Blackhall article in NEJM)
Nutrition and Hydration in Catholic Tradition (timeline); Alphonsus Ligouri nav.
Distinction between imminent death and the Persistent Vegetative State
Benedict XVI and the CDF on nutr./hydr. care for PVS patients
Recent Research that vindicates Pope Benedict's approach
POLST: Intention in Law and Catholic controversy (bishops - nav.)
---
---
Magisterial Texts: (1. CATECHISM of the CATHOLIC CHURCH, 1984; 2. Bl. POPE JOHN PAUL II, Evangelium Vitae, 1985; 3. POPE BENEDICT XVI, 2006 & 2007; 4. POPE FRANCIS; 5. USCCB (2011), PHYSICIAN-ASSISTED SUICIDE - THREAT TO PALLIATIVE CARE)
Locally-Available Resources
---
5. PHYSICIAN-ASSISTED SUICIDE
---
Magisterial Texts: Iura et Bona; Catechism
Euthanasia in the Netherlands and in the USA
California Aid-in-Dying Legislation: Summary; Text of the Law
California Medical Association: Concerns Regarding P.A.S.
Catholic Pastoral Concerns and Response to P.A.S.
)
---
from the_
CATECHISM of the CATHOLIC CHURCH

I,3,I,1. on The Creed: Was conceived by the power of the Holy Spirit and was born of the Virgin Mary. Question: "why did the Word become flesh?" [457: to save us; 458: so that we might know God's love; 459: to be our model of holiness]
460 The Word became flesh to make us "partakers of the divine nature": (2 Pet 1:4) "For this is why the Word became man, [1265, 1391] and the Son of God became the Son of man: so that man, by entering into communion with the Word and thus receiving divine sonship, might become a son of God." (St. Irenaeus, Adv. haeres. 3, 19, 1: PG 7/1.939) "For the Son of God became man so that we might BECOME GOD."(St. Athanasius, De inc., 54, 3: PG 25, 192B) [1988] "The only-begotten Son of God, wanting to make us sharers in his divinity, assumed our nature, so that he, made man, might MAKE MEN GODS." (St. Thomas Aquinas, Opusc. 57: 1-4).
III,2,1: Grace and Justification: [on justification]:
1988 Through the power of the Holy Spirit we take part in Christ's Passion by dying to sin, and in his Resurrection by being born to a new life; we are members of his Body which is the Church, [654] branches grafted onto the vine which is himself:(Cf. 1 Cor 12; Jn 15:1-4)
[God] gave himself to us through his Spirit. By the participation of the Spirit, we become communicants in the divine [460] nature [...] For this reason, THOSE IN WHOM THE SPIRIT DWELLS ARE DIVINIZED.(St. Athanasius, Ep. Serap. 1, 24: PG 26.585 & 588)
1999 The grace of Christ is the gratuitous gift that God makes to us of his own life, infused by the Holy Spirit into our soul to heal it of sin and to sanctify it. It is the SANCTIFYING or DEIFYING grace received in Baptism. [1966] It is in us the source of the work of sanctification: (Cf. Jn 4:14; 7:38-39) Therefore if any one is in Christ, he is a new creation; the old has passed away, behold, the new has come. All this is from God, who through Christ reconciled us to himself.(2 Cor 5:17-18).
---
---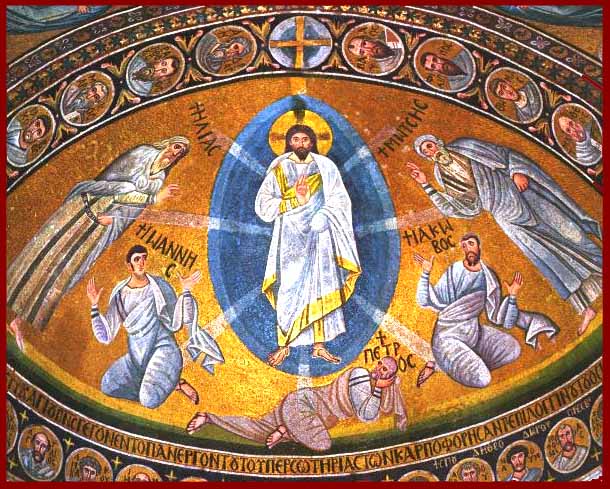 Apse, St. Katharine's Monastery, Sinai. ca. 550.
---
Coronation of the Virgin, Belles Heures of Jean, Duke of Berry.
---
xcxxcxxc F " " This Webpage was created for a workshop held at Saint Andrew's Abbey, Valyermo, California in 2003...x.... ' "".